MEET MATT, OUR SENIOR DIRECTOR OF BUSINESS DEVELOPMENT KUTTA!
January 2023 
Matt is the Senior Director of Business Development for Kutta Technologies (Kutta), a wholly-owned subsidiary of Sierra Nevada Corporation (SNC). He joined SNC after he retired from the Army, then transferred to Kutta over three years ago. We are proud to have him supporting us in our Huntsville, Alabama office. Read on to learn more about his military background and his role at Kutta.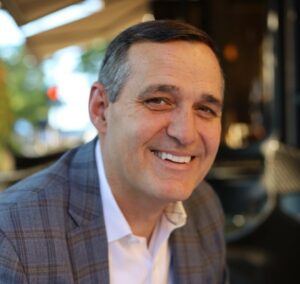 Please tell us a bit about what you did in the military and what branch you served in.
In 1991, after graduating as a Distinguished Military Graduate from the University of Colorado at Colorado Springs with a Bachelor of Arts in History, I received my regular Army commission as a second lieutenant in the U.S. Army Armor Branch. As a lieutenant, I was assigned to Fort Hood, Texas as a Tank Platoon leader, Support Platoon Leader, Company Executive Officer, and Battalion Logistics Officer.  I was later reassigned to the 1st Brigade, 1st Armored Division in Germany, where I became a Company Commander with D/2-37 Armor supporting operations in Bosnia.  In 2000, after completing my basic branch assignments with the 3rd Battalion, 339th Regiment, 75th Division as a Company Trainer and Battalion Operations Officer, I was accepted into Army Acquisition Corp.  I have served in numerous acquisitions positions from Stryker Wheeled Vehicle Operational Test Officer, Assistant Product Manager, Future Combat Systems Manned Ground Vehicle Fleet and Department of the Army Systems Coordinator (DASC) for the Future Combat Systems Program in Washington, DC. I wrapped up my military career serving as the Product Manager for the Unmanned Aircraft Systems Modernization, Program Executive Office Aviation in Huntsville, Alabama and retired from the Army in 2012.
Why do you think it's important to serve our country?
I was raised in a military family; my grandfather, father, and both older brothers served in the U.S. Army. Values of loyalty, patriotism, and service were the building blocks of our childhood. The honor to serve a country that has provided so many freedoms was paramount to our upbringing. I have considered it a great privilege to serve and in some small way, impact and protect the freedoms of both our country and those being oppressed.
With Kutta being part of the SNC family of companies – what does it mean to you, that 30% of SNC employees are veterans?
Eren and Fatih Ozmen are extremely proud of all their employees, and I especially appreciate the efforts they make to recognize veteran employees throughout the year. Personally, I take great pride in the fact that I am working alongside fellow veterans to equip our military with the best possible equipment. The equipment and technology developed by SNC and Kutta saves lives and increases our defense.
What brought you to Kutta? Why do you remain excited to come to work?
In February 2019, I transferred to SNC's subsidiary, Kutta Technologies, to focus on unmanned systems. It is an honor to work with the leadership of such an outstanding company, who not only care deeply for their employees, but who take extraordinary measures to make sure that we are delivering the highest quality products to our soldiers and consumers. In addition to providing extraordinary products, the Kutta team takes care of its own in innumerable ways, some simply thoughtful gestures and others quite significant. I can't imagine working with greater colleagues and friends. The Kutta family has felt like an extension of my military service and has allowed me to continue to contribute to our national defense in meaningful ways.
What is the most meaningful or rewarding part of your work at Kutta?
The most rewarding part of my job is seeing our products in the hands of soldiers and having an impact on making their mission a success.
What's your favorite thing to do when you're not at work?
In my free time, I most enjoy time with family followed by hunting, fishing, and playing cornhole.
What's a (personal) fun fact about you?
In 2001 while traveling in the Kansas City Airport had the opportunity to meet National League Baseball Hall of Famer George Brett from the Kansas Royals and he bought me a few drinks.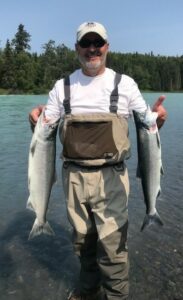 – – –
Interested in joining the Kutta team? Apply today at jobs@kuttatech.com