MEET KATIE, A SYSTEMS ENGINEER HERE AT KUTTA!
June 28, 2022 
Katie is a Systems Engineer for Kutta Technologies (Kutta), a wholly-owned subsidiary of Sierra Nevada Corporation. She just recently came on board with Kutta, so we wanted to get to know her a little better.
Please share a little about your background.
I graduated from the University of Alabama, (Roll Tide!) and received my degree in Mechanical Engineering, with a minor in Mathematics. I have worked as a Systems Engineer for the Missile Defense Agency in Huntsville, Alabama for eight years and I have two years of experience as an Applications Engineer for Hubbell Power Systems in Birmingham, Alabama.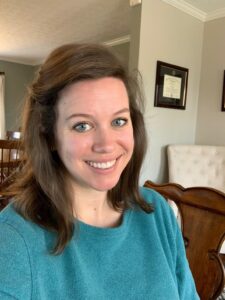 What brought you to Kutta? Why do you remain excited to come to work?
I joined Kutta in February 2022 and was thrilled to find a remote position that both challenged and excited me. I have learned so much during my time at Kutta and I am excited to explore future opportunities within the company.
What is your job at Kutta and why do you enjoy it?
I am a Systems Engineer and love learning more about different operating systems and how the components work together to create an awesome product.
What keeps you going when the going gets tough?
My family! My husband of nine years and I have a two-year-old son named Carter and we are expecting a baby girl in September.
What's your favorite thing to do when you're not at work?
I love spending time outdoors, doing projects around the house and playing with my family. We love going to outdoor parks in our area and the Children's Museum.
What's a (personal) fun fact about you?
I participated in swim team during my childhood and high school career and still love the water. We try to go to the beach at least once a year!
– – –
Interested in joining the Kutta team? Apply today at jobs@kuttatech.co