MEET JULEE, OUR LEAD TEST ENGINEER FOR KUTTA!
September 2022
Julee is a Lead Test Engineer for Kutta Technologies (Kutta), a wholly-owned subsidiary of Sierra Nevada Corporation. She has been passionate about flying since she was young. Read on to learn about her journey and what she has done to make her dreams come true.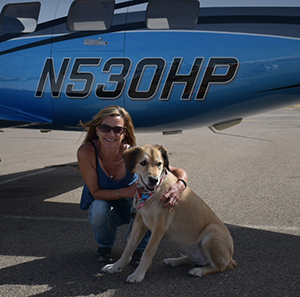 Please share a little about your background.
I grew up in Santa Ynez, California. When was young, on many occasions, I turned toward the sky, checking out whatever plane flew overhead. During career day in high school, the only journey I was interested in taking was to become a pilot. I started taking flying lessons and ground school at the local airport. I soloed when I was 16, earned my license when I was 17. I attended Embry-Riddle Aeronautical University in Arizona, where I earned both a BS and MS in Aeronautical Science in addition to becoming a certified commercial single and multi-engine instrument-rated pilot. Following graduation, I was employed at the NASA Johnson Space Center, working on space station operations planning and supporting the Mission Control Center for a couple of years before returning to Arizona and eventually finding my way to Kutta Technologies.
What brought you to Kutta? Why do you remain excited to come to work?
I was interested in becoming involved in small unmanned ariel systems (sUAS). Kutta has inspired me to become FAR Part 107-certified and be forward thinking with the development of new UAS technologies.
What is your job at Kutta and why do you enjoy it?
I am a Lead Test Engineer for the Handheld Ground Control Station (H-GCS) team. I enjoy the hands-on work, being part of technology development, and experiencing things coming together.
What is the most meaningful or rewarding part of your work at Kutta?
Being able to consistently pull together as a team and solve just about anything that we are presented with. The camaraderie of the employees at Kutta is unique and something you just don't find at most companies.
What keeps you going when the going gets tough?
Having a vision and mindset of a successful outcome before a task takes place helps guide me through nearly any obstacles that may arise. I also am surrounded at Kutta by a very supportive team that fosters success in any situation.
What's your favorite thing to do when you're not at work?
I love hiking and exploring just about anywhere. I also study Natural Horsemanship and enjoy spending time with my two horses; Thunder and Norman. This was her first ride on Norman. She said, "You couldn't get the smile off my face!"
What's a (personal) fun fact about you?
I have a degree in Equine Science, I have hiked Macchu Picchu and unless it's Mexican food, I rarely cook the same meal twice. For nearly 10 years, I owned a small business renting horse trailers, which first began as a service to the equestrian community. I met some pretty amazing people along the way. We ended up discovering that not only was there an interest in weekend and competitive equine events, but also for many others like animal rescue and emergency evacuations, the Cavalia show event, and even a need from Ford and Toyota for images and vehicle sensor testing.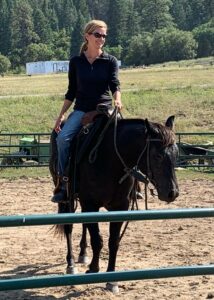 – – –
Interested in joining the Kutta team? Apply today at jobs@kuttatech.com